Olá!
Aqui é a Shirley Schneider, co-fundadora do Instituto Joule. Recentemente postamos uma notícia muito legal sobre o Joule ter sido selecionado pelo governo americano. Aqui.
Hoje vou compartilhar um pouco da minha história como estagiária e da minha experiência com o estágio/intercâmbio profissional e internacional do YLAI (Young Leaders of the America Initiative).
Em 2007 eu comecei a estagiar duas semanas antes das aulas da faculdade iniciarem.
Fiz ao total três estágios em empresas diferentes. No meu segundo estágio, consegui uma efetivação. Na época para ganhar muito pouco mas era uma efetiva. Não demorou muito tempo e fui demitida. "Corte de custos". Foi uma experiência frustrante. Meu primeiro emprego de carteira assinada e também minha primeira demissão. Bola para frente. Embarquei em um novo estágio. Estava no segundo ano da faculdade. Consegui em uma empresa internacional e no interior do Rio Grande do Sul.
Para minha surpresa, essa empresa tinha um programa super estruturado de "apadrinhamento" dos estagiários. Recebi um "padrinho" que foi um grande mentor. Hoje em dia um grande amigo que recordo com carinho.
Nessa empresa também fiz um plano de estágio bem estruturado com metas para pilares diferentes. E eu fazia a minha autoavaliação em cada meta de tempos em tempos. O meu "padrinho" e o meu gerente também. Em cinco anos cresci de estagiária para consultora, trabalhando de casa e respondendo para um time em Austin. Tenho certeza que as pessoas que me ajudaram pelo caminho, como mentores, tiveram grande influência nas minhas conquistas.
Muito do que aprendi nessa empresa e como voluntária do Junior Achievement serviram de inspiração para implementar no Joule.
Através do Joule e pela ideia e desenvolvimento do Joule, fui selecionada para o Programa do YLAI e voltei a ser estagiária novamente. Dessa vez em uma empresa fora do país.
Fui alocada para trabalhar um mês em uma consultoria estratégica focada em impacto social localizada em Salt Lake City.
Pausa aqui.
Anos antes de começar a estagiar e antes de entrar na faculdade, eu queria e tentei estudar inglês nos EUA. Meu visto foi negado DUAS vezes seguidas. Eu queria ter estudado inglês nos EUA, em Salt Lake City.
Doze anos depois, aqui estou, escrevendo da empresa que me acolheu nessas últimas semanas aqui em Salt Lake. Coincidências da vida? Tire suas próprias conclusões.
A minha expectativa ao vir para esse Fellowship, como eles chamam, era de poder contribuir de alguma maneira.
Hoje é o meu último dia e posso dizer que foram semanas intensas de aprendizados, conexão com outras empresas e pessoas de opiniões diferentes, captação de novos parceiros.
Fui "apadrinhada" pelo sócio da firma. Uma líder nato que me conduziu nesse processo, compreendeu minhas necessidades, me colocou em contato com projetos que me trouxeram benefícios, escutou meus pontos de vista diferentes, me deu espaço para contribuir.
Muito do que vi por aqui poderei aplicar no Instituto Joule. E ainda, abriram portas para relações estratégicas e internacionais.
Coincidência ou não, no primeiro dia na firma, o sócio, sentou comigo, estruturou um plano de fellowship e me mostrou organizações e modelos internacionais para eu estudar e fazer Benchmark. Um deles, encontrei tanta sinergia com o Instituto Joule que enviei uma mensagem para parceria. Curiosamente, anteontem eles me responderam e agendaram um call pois estão lançando o mesmo programa global no Brasil e adorariam fazer uma parceria. Networking e estar no lugar certo na hora certa.
Algumas das práticas que aprendi e estou adotando: estruturação do modelo da teoria da mudança com definição de metas claras a longo, médio e curto prazo, definição de métodos e métricas de impacto social, sales pitch, relatório anual de impacto, controle internos e medição de satisfação interna, dinâmica de um board social operacional e efetivo.
Ontem foi dia de abraços, até breve e "vamos continuar a trabalhar juntos", "agenda um call mensal comigo e vou te dar mentoria e conselhos que precisa para a sua organização crescer".
Uma outra possibilidade que o governo americano oferece em seguimento a esse prêmio do YLAI, é a possibilidade de um Reverse Exchange, um programa em que o host, ou líder que me acompanhou durante o meu estágio aqui, vá para o meu país fazer um projeto junto com o meu. Estamos trabalhando em uma ideia muito interessante de aplicação para o projeto no próximo ano.
Saio com a sensação de que trabalhar com propósito deixa de ser trabalho, vira uma satisfação, um legado a ser construído.
Que orgulho fazer parte do Instituto Joule e ter uma expectativa enorme do que está por vir.
E será grande.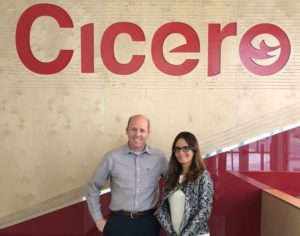 Jacob, meu Mentor e eu.
Intercâmbio Profissional – Minha experiência com o YLAI